I was pregnant with my second baby when I wrote that last post, travelling up to Birmingham to spend a very fun day teaching business owners while also sporting an extremely neat bump.
Inevitably the neat bump eventually becomes a totally unwieldy stomach porch, and before you know this arrives:
Arrietty Ellen Milway
But, that all happened quite a while ago. After a while she looked like this: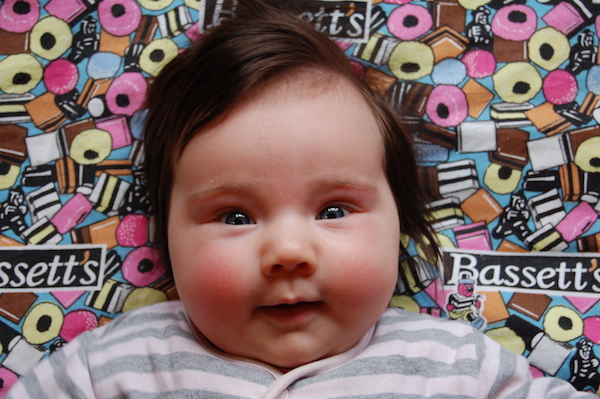 And now?
Well, now she's this little bundle of trouble.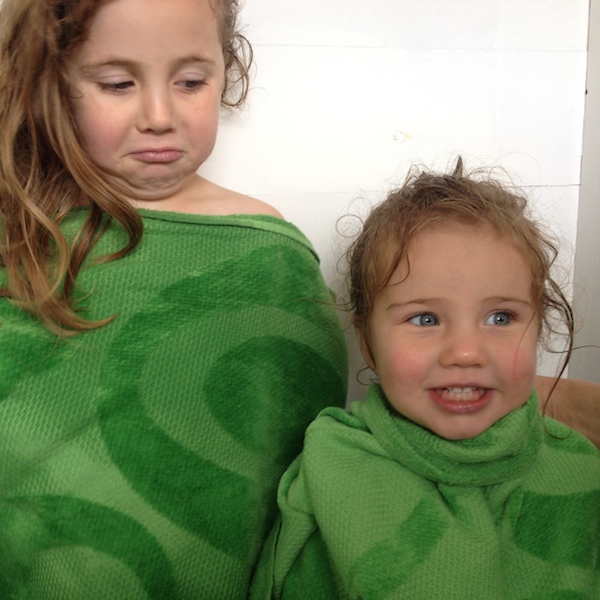 Cecily is cold, hence the face.
Popularity: 1% [?]
The internet's famous Susi Weaser came over today in order to work from a different home to her own.
As you can imagine, Crystal Palace was aflame with the burning humour of our wit and intelligence. We had many interesting conversations that probably should have been recorded for posterity and stored in some well-guarded vault for the benefit of future generations.
Here are some samples of our conversations:
Me: Do you like my Vax Cone? It glows when you charge it up.

Susi: Why do you need one of those?

Me: Just think of the spot cleaning I'll be able to do once the baby's here!

Susi: That's true, I could do with spot cleaning my rug at home, the fluff gets everywhere so I have to walk around it.

Susi: Actually, Dyson is launching something in a few weeks and they won't tell me what it is. I'm excited.
And
Susi: I've got to find battery chargers that look nice for this article.

Me: I love battery chargers! Energiser and Sanyo both have nice looking chargers.

Susi: I'll send it to you once it's done so you can enjoy reading it.
And
Susi: You like To Do lists don't you? Check out this To Do list app I've got.

Me: That's great. I've been looking for something like that. I'm not happy with the solutions I've found so far. [Insert lengthy conversation about To Do lists apps followed by a digression into the wonders of Drop Box and Fresh Books].
Etc etc all afternoon.
So, as you can see, the nation really has missed out on something magical happening right here in my living room and it's a poorer place because of it.
Next time maybe I'll set up a webcam and you can all sit and gaze, agog at just how interesting two humans can be. In the meantime, here's one of my favourite videos we made back in the Shiny hay day about a gadget no one was interested in.
Popularity: 12% [?]
OK, I've got a couple of crochet projects I've been working on recently that I just *have* to post up, but before I do that, I needed to share with the world my joy and excitement at the frivolous purchase I just made. I bought me a campervan! Yes, I'm the proud owner of a 1980s VW Westfalia Camper. None of those shonky old 70s buses for me. They may look good, there's no denying that, but my childhood memories of holidaying in the 80s Devon Moonrakers and Holdsworth Kampers my dad used to sell has left me slightly dewy-eyed for these more modern VWs. They have a charm all of their own (at least I think they do) and this particular beauty has everything I wanted – round headlights, Westfalia interior and (most importantly) the green paint job.
I got it from the lovely boys at Eastfalia, down in Surrey yesterday. I knew I was doomed to make the purchase before I even got there – all the other vans I'd seen for sale had something that wasn't quite right, not to mention the fact that the 80s vans seem to be snapped up faster than the older models at the moment.
The one downer for me was the slightly grotty interior. My childhood memories are of brand new vans with spankingly clean interiors, but this one not only had a fair few dinks and frayed edges, it also had 25 years' worth of grot and a mouldy ceiling (which the previous owner had made worse by painting over the flocked finish, preserving the mildew AND ruining the fluffy feel).
But I can't help being ever so slightly pleased that the interior needs a spruce up. I know that keeping the original features is important for campervans and I don't want to be responsible for ruining the 80s interior in the same way that Victorian home interiors were ruined by people in the 80s (a pox on whoever decided to rip out the best bits from my flat and Artex the walls), but I reckon I can get the place looking like (mobile) home without making any irreversible changes. At least, that's what I'm telling myself. If I get too carried away, I'll just have to hide it from Antony at Eastfalia who will probably be appalled at the sacrilege.
I smell a Campervan blog on the horizon…
Popularity: 2% [?]