About Katie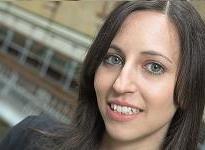 Katie is a journalist, blogger, geek and web entrepreneur. She is currently director of Miramus a digital media company that helps brands to win at the internet.
She's recently worked with Yahoo! Europe, Pfizer, Jorg&Olif, AOL UK, Great British Mums and Marks & Spencer.
Katie is managing editor of Dork Adore, a haven for geeks.
There's more…
In 2008, Katie was voted one of London's 1000 most influential people by the Evening Standard. And in 2009 Revolution magazine voted her one of 50 To Watch in Digital.
Previously, Katie co-founded Shiny Media in 2004, the UK's biggest and most successful blog network. The company took £1m investment in 2005, launching over 35 blogs in the fashion, technology, games, lifestyle and sport sectors.
She managed a team of 11 in-house writers, and over 50 freelance bloggers producing some of the best British blogs on the web, including Catwalk Queen, Shiny Shiny, Tech Digest, Bridalwave and TV Scoop. She also produced blogs for clients, including Top Shop takeover, River Island's Graduate Fashion Week blog and AOL's personal finance blog, WalletPop.
As a journalist, Katie has written for most of the major newspapers. She still does some writing work, producing a regular column for Look, Woman & Home and the Telegraph blog. She was the founding editor of Shiny Shiny – the first gadgets site for women.
When she's not on the internet, she's camping in her woodland in Kent or making yet another crochet blanket in front of the TV.  And then she blogs about it on her crochet blog, Good Hooking.
Popularity: 100% [?]